In the ever-evolving world of gardening and cultivation, hydroponics has emerged as a revolutionary method for growing a wide range of plants, from succulent vegetables to medicinal herbs and even cannabis. We at Green-Cult are thrilled to introduce our latest innovation, the HydraMax Hydroponic 1 and 2 Bucket Systems.
These compact systems are designed to make the power of hydroponics accessible to everyone, whether you're a novice or an experienced grower.
Professional Performance, enty-level price
The HydraMax Home 1 and 2-Bucket RDWC System may be compact, but it's engineered for top-tier performance. These scaled-down versions are inspired by our highly acclaimed professional systems and feature the same advanced hydroponic culture technology as our larger Pro Systems. As an importer, we at Green-Cult have adapted this system specifically for the requirements of European standards in terms of quality. In particular, the supplied pump meets the highest quality standards and is designed for long-lasting continuous operation. This means you can expect optimal nutrient distribution, robust root development, and impressive plant growth, just like our Pro Systems.
Cultivate with Confidence
Whether you're just getting started with hydroponic growing or are already a seasoned expert, the HydraMax Home 1- and 2-Bucket systems are ideal for getting personal growing experience with this system. Thanks to the user-friendly design and uncomplicated setup, you will be able to make your first successes with hydroponic culture very quickly without any problems. It's the perfect starting point for those curious about hydroponics, offering a seamless transition into this rewarding world of growing. The system ensures ideal water and nutrient distribution, promoting rapid growth and bountiful yields. HydraMax simplifies your grow environment, reduces labour and maintenance, and features a clean-in-place system. Plus, our patented Qwik-Lok plumbing makes installation a breeze.
Space-Savvy Design
We understand that space is precious, especially in in-home applications. That's why the HydraMax Home 1 and 2-Bucket RDWC Systems are thoughtfully designed to blend seamlessly into your living space, apartment, or office. You can bring the beauty of your cultivation indoors without compromising on quality or efficiency. With its small footprint, it's an excellent fit for growers with limited space.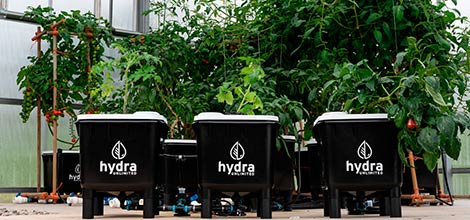 Your Personal Hydroponic Haven
Hydroponics is not just about growing plants; it's about connecting with nature in a way that enhances your environment and quality of life. Whether you're cultivating herbs, cannabis or small flowering plants, the HydraMax Home 1and 2-Bucket RDWC Systems offer you the opportunity to create a thriving indoor garden. Our patented circulators ensure a perfect mixture of air and water circulation, facilitating highly efficient nutrient uptake and maximizing plant growth. It's your personal hydroponic haven.
HydraMax Quality, Home Convenience
At Green-Cult, we're dedicated to pushing the boundaries of hydroponic innovation. The HydraMax Home 1 and 2-Bucket RDWC Systems are a testament to our commitment to making hydroponics accessible to every home, regardless of size. It's the perfect fusion of professional-grade results and the intimacy of home cultivation.
In conclusion, the HydraMax Hydroponic 1 and 2-Bucket Systems represent a significant leap forward in hydroponic technology. These compact systems bring the power of hydroponics to your personal growing space, offering professional performance on an individual scale. Whether you're a beginner or an experienced grower, you can cultivate with confidence, knowing that HydraMax has your back. Embrace the joy of nurturing plants and experiencing their growth up close while enjoying the convenience of home cultivation. With the HydraMax Home 1 and 2-Bucket RDWC Systems, your journey into hydroponics has never been easier or more rewarding. Welcome to the future of home cultivation.